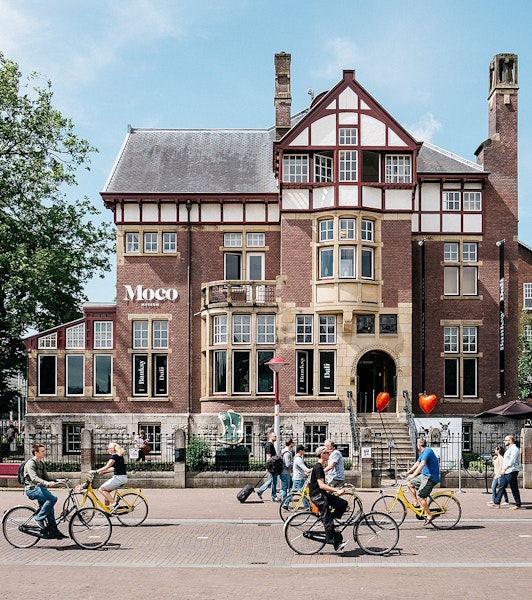 Plan Your Visit to MoCo Museum
Practical Information
Timings:
Sunday to Thursday: 9:00 AM to 7:00 PM
Friday and Saturday: 9:00 AM to 8:00 PM
The museum is open throughout the year. You can check announcements regarding closures on the official website here. It takes around 1 to 2 hours to fully explore the museum.
Best Time to Visit the MoCo Museum
The MoCo museum experiences peak crowds on weekends from 11:00 AM to 5:00 PM. Those who prefer to have a quieter visit should plan their trip outside these hours. The museum's proximity to major attractions such as the Van Gogh Museum and Rijksmuseum makes it a popular place for tourists. As such, visitors should book their tickets online in advance so they can avoid the often long lines for purchasing tickets on-site. 
Guests must wear comfortable casual clothes and carry an umbrella as rain is abundant and random in Amsterdam. There are several temporary exhibitions and displays at the MoCo Museum and visitors can check out their website to find out more.

Getting to MoCo Museum
Cycling - Cycling is the most popular choice of transport for people in Amsterdam thanks to the city's comprehensive network of cycling paths and rentals.
Tram - The closest tram stop is located on the same street as the MoCo Museum and is called Van Baerlestraat and is accessible by tram lines 2, 5 and 12. 
Bus - The nearest bus stop is the Rijksmuseum and is served by bus routes 347, 357, 397, N47, N57, and N97.
Car - Honthorststraat is easily accessible by car and the nearest car park is a Q- Park, located underneath Museumplein. It is a 5-minute walk from the museum.
Know Before You Go / Handy Insider Tips
The MoCo Museum's central location means it is within a 10-minute drive of some of the top hotels in Amsterdam, including Waldorf Astoria, Ambassade Hotel, Pillows Anna van den Vondel, The Toren, and Luxury Suites Amsterdam.
Esther's Cookery is a top eatery near the MoCo Museum and offers delicious Dutch cuisine. If you're looking for a restaurant that offers a more diverse range then Zaza's is a choice. Sherpa's Restaurant is also popular in the area and serves mouth-watering Indian dishes.
Entry to the MoCo Museum costs €15.50 for adults, €14.00 for students and those aged 13-17 years and free for everyone below that range. Keeping this in mind, travellers on average spend €127 a day in Amsterdam, including meals and visits to other attractions.
Visitors with a disability should take note that the MoCo Museum is housed in a historical villa and thus does not provide wheelchair access to the upper floors. Strollers, trolleys or suitcases are not allowed inside the premises and all service dogs must have a proper harness.
Visitors are advised that queuing for tickets can take time and plan accordingly. Wait times often double on rainy days.
Those with a Stadspas and an IAmsterdam card can use them at this museum. However, the Museumkaart and ICOM card cannot be used.
It is highly recommended to book tickets to the museum in advance to guarantee entry and avail discounts.
Photography is allowed inside the museum but not flash photography.